Three games I am glad were never made… [ COMIC ]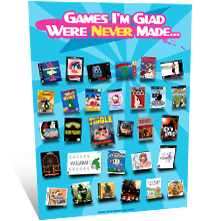 With today supposedly being the last day to pre-order the brand new Games I'm Glad Were Never Made… (poster) (available on BigBoomBomb.com) I decided to do a little push by posting a couple of the other games as the comic. I also decided to extend the pre-order one more day since I received a few emails from people who wanted to pre-order the poster but wouldn't have the money until tomorrow. So this is for you. For everyone else you get a sales pitch… The poster includes all twenty seven of the current game covers, plus three brand new ones never shown anywhere else before. On top of that, pre-ordering the poster saves you $2 USD over the regular price.
But wait, there's more! I also have a very special combo pack that includes the new Games I'm Glad Were Never Made… (poster) and the Rejected Mega Man Villains (poster) as well. This combo pack saves you $10 off the regularly combined prices of the two posters. Ten friggin' dollars!!! Plus, the shipping costs on this combo pack are half the regular price as they would be by ordering both posters individually. It's a definitely a great deal for readers outside of North America who were hesitant to buy the Rejected Mega Man Villains (poster) because of shipping costs. Now you're seriously getting your monies worth. Note that the pre-order and the super mega plus rate for the two poster combo pack will only run through June 19th. So order yours today.
I'll be back on Monday with something that will poke fun at something we've been indirectly discussing in the comments area… Hopefully. It really depends on whether or not I can get the thing to come together effectively or not.