Blue Shell, Blue Balls [ COMIC ]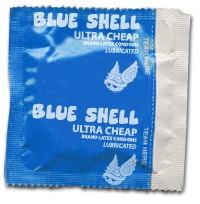 I would have referred to them as Spiny Shell Condoms, but that would have given the comic a completely different feel. Literally.
I had this comic finished pretty close to midnight EST, but I wanted to create a mock wrapper for a Blue Shell Condom. Thought it adds a little something more to the experience. Or at the very least a picture of a fake condom wrapper.
Seriously though, the blue shells or spiny shells or whatever kind of shell you want to call them are a mixed bag of tricks. On one side, its a cheap way to win and an even cheaper way to lose. It can completely destroy the whole skill aspect of any given race. Then again, it does add a completely random level of uncertainty of how a race will play out even until the very last second. So I guess I have a love hate kind of relationship with the blue spiny shells. Though, it's still an extremely crappy way to lose.
Have a differing opinion? Feel free to interject it in the comment section below. Otherwise, I will see you on Thursday.
Update: I also want to mention that Scarlet Pirate, a female gamer (it makes sense why I mention that if you read her comic and the responses), created this guest comic in response to the comments of the this posting. Very creative.