The Fat Princess Diaries [ COMIC ]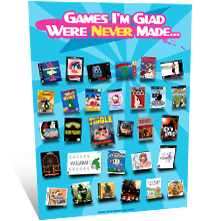 First off, I want to remind you that the brand new Games I'm Glad Were Never Made… (poster) is still available to pre-order on BigBoomBomb.com. And the two poster combo pack that saves you $10 off the regular combined price, is available as well. The pre-orders for this poster and the special combo pack price is only until June 18th. Order yours today!!!
Now about Fat Princess, it looks fun. It's basically capture the flag, but with fat princesses instead of flags. It looks fun and the fact that people are actually getting upset about it, means it will definitely get some much deserved publicity.
Edit: Had to remove the placement of The Fat Princess trailer from being directly on the site. The loading of the content was killing the server speeds. Nonetheless, I've got a direct link to the trailer here.