Sumo Titan [ ARTICLE ]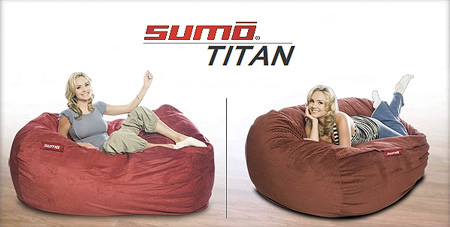 After reviewing the Sumo Sway Couple last year, I imagined that it would retain it's permanent spot in the center of my living room. I made this assumption before I knew there would ever be the Sumo Titan.
Fair is fair, the Sumo Sway Couple is every bit as comfortable as the Sumo Titan it's just not as big. Seriously, where the Sumo Sway Couple could sit my two daughters on it at the same time, but the Sumo Titan can fit my entire immediate family on it at one time. Literally. My wife, my two daughters and myself all laid on it the first day we got it just to see if we could fit and we did.
I think my only complaint with the product is my favorite aspect about the product, as well: It's huge. It might be a tight squeeze in smaller rooms, but if you can make it fit it's definitely worth the effort. My only fear is that next year Sumo Lounge will release the Sumo Mega Titan Double Extra Large Plus, as I just don't think I'll have the room for that.